Miami Medical Center (Miami VA Health Care)
The Miami VA Medical Center provides services to veterans in the Miami, Florida area.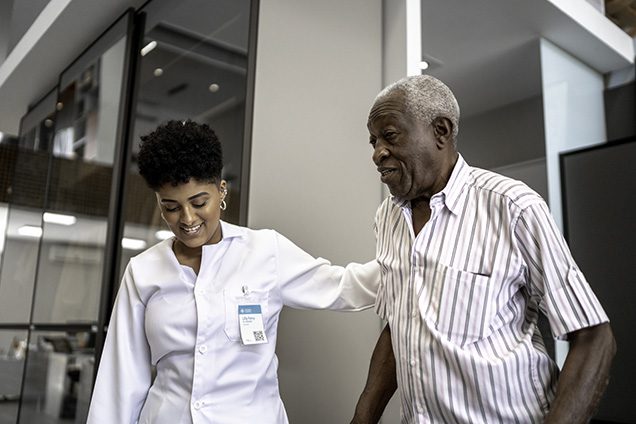 Miami Medical Center – VA Miami Health Care
The VA Miami Health Care System has a rich history of providing healthcare services to veterans in Miami, Florida. Since the system's establishment in 1968, it has consistently grown and evolved to meet the needs of its patients in Florida who are in need of treatment. The VA Miami Medical Center, known as the Bruce W. Carter Department of Veterans Affairs Medical Center, offers a wide range of services to over 61,000 veterans in Miami-Dade, Broward, and Monroe Counties. More than 1,000 staff and employees provide dedicated care at the healthcare system's main medical center in Miami and at various outpatient clinics nearby.
The VA Miami Health Care System has made significant contributions to the cancer community by providing comprehensive cancer care for veterans. Cancer care services, including screenings, diagnostics, treatments, and supportive services. Its multidisciplinary approach brings together a team of healthcare professionals that specialize in oncology and other vital specialty areas to ensure that veterans receive high-quality care.
What is VA Miami Medical Center Known For?
The Miami Medical Center offers veterans a range of cancer treatments and services. These services include screenings, diagnostics, and personalized treatment plans. The hospital provides surgical interventions for cancer treatment, such as tumor removal, reconstructive procedures, chemotherapy, and radiation therapy. Supportive services like pain management, palliative care, and counseling are also available.
The VA Miami Health Care Systems emphasizes a multidisciplinary approach, collaborating with various healthcare professionals to ensure veterans receive the highest quality care for their cancer diagnosis and treatment. A cancer care team also includes professionals who can assist in support services for families of veterans with cancer. These services may include burial services or monetary compensation.
Mesothelioma Programs at the Miami Medical Center
Mesothelioma is a rare and aggressive cancer affecting the lungs, abdomen, or heart lining. It is primarily caused by asbestos exposure. The military used asbestos for a large part of the 20th century for its fire-resistant properties an insulating capabilities. Various military applications, including ships, aircraft, vehicles, and military buildings, commonly contained asbestos products. Prolonged exposure to asbestos has been linked to serious health conditions, such as mesothelioma, asbestosis, and lung cancer.
As a result, many veterans who served in the military during this time frame have experienced significant health issues related to asbestos exposure, leading to an increased risk of disability and mortality among this population. Treatment for mesothelioma typically involves a combination of treatments tailored to the individual's specific circumstances and state of the disease.
Most VA medical centers, including the Iowa VA Medical Center, have undergone extensive asbestos removal and demolition projects. The military began phasing out the use of asbestos after the Environmental Protection Agency (EPA) issued regulations as early as 1970. By the early 1980s, the use of asbestos in military construction decreased as awareness grew regarding the health hazards posed by breathing in asbestos fibers.
Mesothelioma treatment options at the VA Miami Medical Center involves a combination of surgery, chemotherapy, and radiation therapy, depending on the stage and extent of the disease. These interventions aim to remove or shrink tumors, alleviate symptoms, and improve overall quality of life for mesothelioma patients.
Treatment Options at the VA Miami Medical Center
Cancer treatment centers like the Bruce W. Carter VA Medical Center in Miami focus on the diagnosis, treatment, and care of individuals with cancer. These centers employ the top oncologists, surgeons, radiologist, and other medical professionals in the United States who collaborate to provide personalized treatment plans for patients.
Oncologists play a central role and can be further categorized into medical oncologists who oversee chemotherapy and targeted therapy treatments, surgical oncologists who perform cancer surgeries, and radiation oncologists who administer radiation therapy.
Hematologists focus on cancers of the blood, while pathologists analyze tissue samples to diagnose and stage cancer. Radiologists interpret imaging tests like X-rays and MRIs to aid in diagnosis and treatment planning. Additionally, palliative care specialists provide support to manage symptoms and improve the quality of life for cancer patients.
Cancer treatment centers in the U.S. often feature state-of-the-art medical technology and advanced therapies, and surgical interventions. They aim to offer a range of services to address the physical, emotional, and supportive needs of patients and their families.
For mesothelioma patients, receiving adequate health care could make a difference in preventing a mesothelioma misdiagnosis. Several VA medical centers strive to deliver the highest standard of care, including:
Clinical Trials for Florida Veterans
Clinical trials for cancer treatment and asbestos poisoning are research studies that aim to evaluate the safety and effectiveness of new drugs, treatments, or interventions. These trials involve patient volunteers who willingly participate in the study under the supervision of medical professionals. Clinical trials play a crucial role in advancing cancer care by testing innovative approaches and potential breakthrough treatments while also determining the efficacy, side effects, and optimal dosage of experimental therapies.
Participation in a clinical trial offers patients access to cutting-edge treatments that may not be available through standard options. It also contributes to the collective knowledge and development of improved cancer therapies, ultimately benefiting future patients. Florida veterans have access to a variety of clinical trials located at Clinicaltrials.gov.
Miami Medical Center Locations and Information
The VA Miami Health Care system contains one main medical center in Miami and eight community outpatient clinics along the Southwest Florida coast.
Bruce W. Carter Veterans Affairs Medical Center
Address: 1201 Northwest 16th Street, Miami, Florida 33125
Phone: 305-575-7000
VA Miami Health Clinic Locations
Deerfield Beach VA Clinic: 2100 Southwest 10th Street, Deerfield Beach, FL 33442
Hollywood VA Clinic: 3702 Washington Street, Suite 201, Hollywood, FL 33021
Homestead VA Clinic: 950 Krome Avenue, Suite 401, Homestead, FL 33030
VA Medical Benefits
Veterans benefits are a collection of programs and services that support and assist military veterans. These benefits encompass a wide range of areas, including healthcare, disability compensation, education and training, home loans, vocational rehabilitation, life insurance, and more. Veterans can file for VA benefits if they meet certain eligibility criteria involving length of service, discharge status, and income level.
Veterans seeking VA healthcare benefits can apply for benefits and enroll in the VA health system directly through the VA website, by phone, by mail or in person at your nearest VA medical center or clinic.
Mesothelioma patients have several legal options available to seek compensation for their illness. The primary legal avenue is filing a personal injury or wrongful death lawsuit against the companies responsible for their asbestos exposure. This involves gathering evidence to establish the link between asbestos exposure and mesothelioma development and demonstrating the defendants' negligence or liability.
Compensation is also available to veterans who may have developed an illness due to other military-related activity. For instance, veterans who came into contact with hazardous substances at the former U.S. Army Post-Fort Ord. The former military base posed potential risks to human health and the environment due to chemical contamination.
Cancer and other health issues among veterans has also been linked to burn pits in Afghanistan due to the potential exposure to toxic substances released during the burning of various materials, including waste and chemicals in open-air burn pits. The smoke and airborne particles emitted from these burn pits contain a mixture of harmful carcinogens, heavy metals, and respiratory irritants.
Disclaimer: Miami Medical Center has no professional affiliations with Mesotheliomavets.com.