Camp Pendleton Marine Corps Base
A US health agency performed an epidemiological assessment on the Camp Pendleton base in California. The assessment discovered 9 sites of contamination, posing a threat to the health of the soldiers and workers on-base.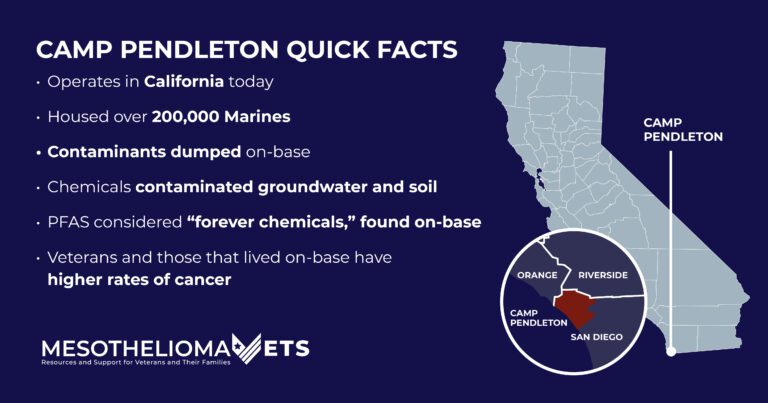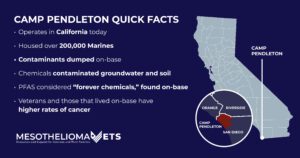 History of Camp Pendleton California
In 1942, the military established the Camp Pendleton base in California as the new West Coast Marine Corps Base. This base offers facilities for active and reserve Marine, Army, and Navy units as well as national, state, and local agencies. Camp Pendleton is famous for many things such as being one of the largest military bases in the United States and having a vast ecosystem. The land is beautiful, containing beaches, bluffs, canyons, mountains, and California's only free-flowing river.
However, Camp Pendleton is also famous for its toxic exposure. Exposure to hazardous materials at the camp has led to the development of severe medical conditions in veterans. In this article, we are going to detail the exposure risks endured at Camp Pendleton and how to take action if this has led to the development of a serious medical condition to yourself or a Veteran in your life.
Is Camp Pendleton a Superfund Site?
The Environmental Protection Agency considers the Marine Corps Base Camp Pendleton a superfund site. Places are considered Superfund sites when they are polluted and require a long-term response to clean the hazardous materials. The base is over 125,00 acres and the EPA has been cleaning the area for over 25 years. They hope that by cleaning the area, they will mitigate the risks of toxic exposure on the base.
History of Camp Pendleton Toxic Exposure
For the past several years, the Environmental Protection Agency (EPA), contractors, and investigators discovered ongoing health risks at the Camp Pendleton base. A spokesperson for Camp Pendleton defined seven areas where alleged contaminants were dumped routinely before 1980. For instance, people often disposed of pesticides, oil, and chemical solvents in the free-flowing river, contaminating the surrounding water and soil. The EPA lists several COCs, or contaminants of concern, at the site. COCs are considered chemical substances found that the EPA determined poses an unacceptable risk to Marine Veteran's health or the environment.
Multiple toxic agents, including per- and polyfluoroalkyl substances (PFAS), long-lasting chemicals, heavily contaminate the camp environment. Shockingly, it is reported that the PFAS concentration in the camp water and soil is 820 parts per trillion, which is higher than the permissible limit set by EPA. These chemicals and hazardous materials found at Camp Pendleton were located in contaminated groundwater, soil, solid waste, and soil gas on base.
Other toxic materials found at the site include:
Aluminum
Antimony
Arsenic
Barium
Beryllium
Boron
Cadmium
Vinyl Chloride
Chromium
Cobalt
Copper
Iron
Lead
Manganese
Mercury
Tetrachlorothene
Thallium
Toluene
Vanadium
Zinc
Per- and Polyfluoroalkyl Substances (PFAS)
PFAS are considered "forever chemicals" as they do not biodegrade and move through the Earth into the water where they remain indefinitely. Military bases across the country utilize firefighting foam containing PFAS. When used, the foam slips into the water where the PFAS remains.
Several cities, like San Diego, are filing lawsuits over harmful PFAS from local military bases detected in surrounding water plants. Those that source from Camp Pendleton's surrounding water plants are exposed to contaminated water. Citizens exposed to contaminated asbestos water may develop undesirable medical conditions.
Present Day Camp Pendleton California
The EPA is removing the on-base contaminants, excavating and disposing of contaminated soils, however, citizens remain as they work through the large camp. People continue working on the site, posing a serious health risk as the contaminants remain. Unfortunately, the camp's immediate health hazards affect over 36,000 base personnel presently.
Can I File a VA Medical Claim If I Served?
Exposure to toxic chemicals on base or a Coastal shipyard can lead to the development of cancers like mesothelioma and other adverse health effects. If you are a Camp Pendleton Veteran and or an affected family member, you may be eligible to file a claim and receive compensation. You also have treatment options within the Palo Alto Health Care System. Compensation from a claim can assist with treatment payments, funeral arrangements, and much more. Mesothelioma Vets has a wide array of asbestos knowledge and connections to assist you in your case. Discover your options with a mesothelioma expert today.