Newport News Naval Shipyard
Newport News Naval Shipyard, also known Newport News Shipbuilding & Dry Dock Company, or Newport News Shipbuilding, was developed in 1886 by powerful businessman and railroad mogul, Collis Potter Huntington. Throughout its nearly 140-year history, the shipyard has built over 800 ships and is currently the military's top builder.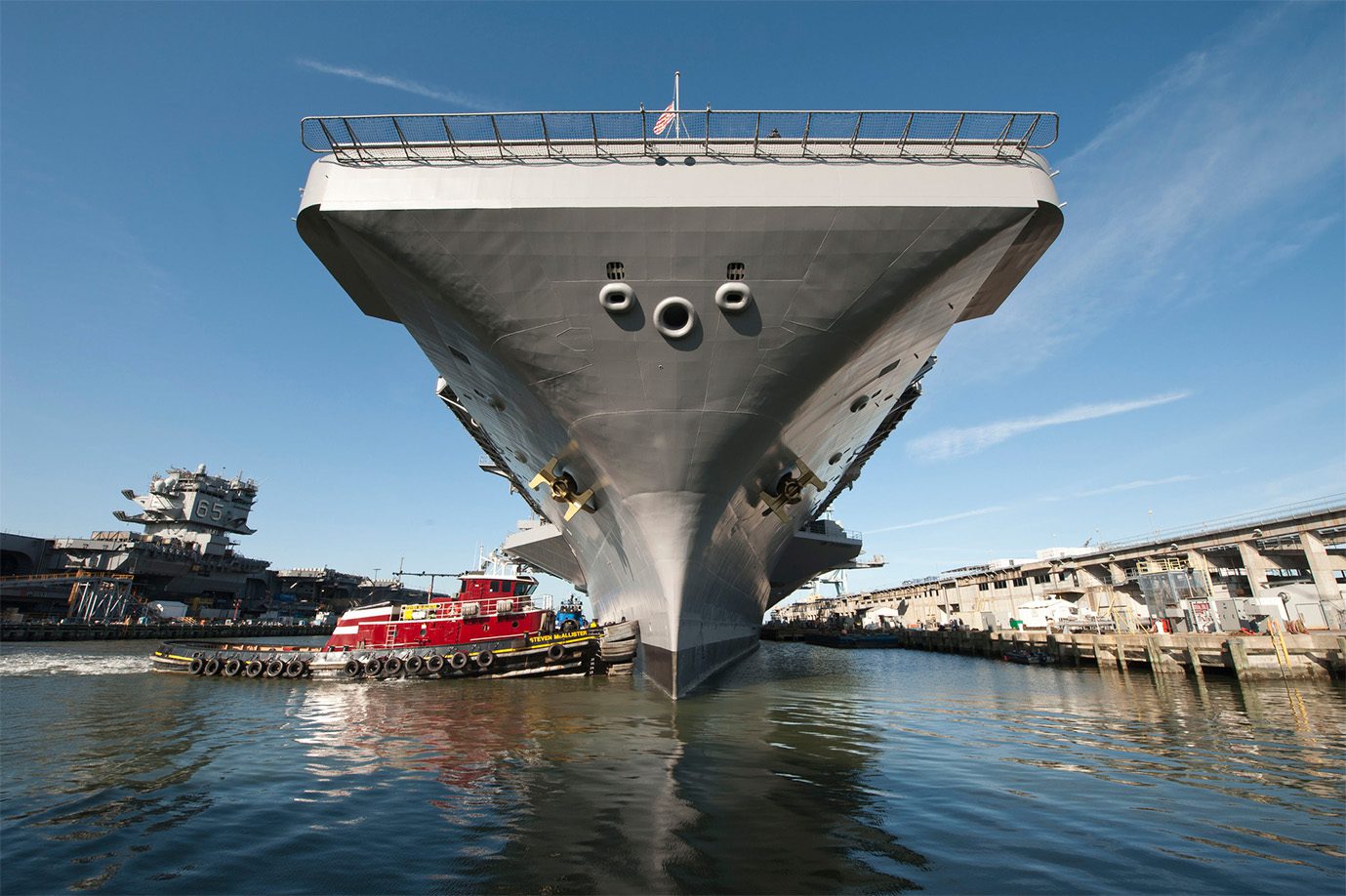 History of Newport News Naval Shipyard
For over 100 years, the Newport News Naval Shipyard has designed, built, and managed the life cycle of hundreds of ships, including destroyers, aircraft carriers, and submarines. The shipyard is famous for designing iconic ships and aircraft carriers like the USS Enterprise, USS Nimitz, and USS Gerald R. Ford.
Collis P. Huntington originally established Newport News Shipyard as a private goods transportation hub connecting railroads to seas. Years later, the shipyard began contracting with the U.S. military after Theodore Roosevelt commissioned the "Great White Fleet" in 1907. The fleet consisted of 16 steam-powered battleships that would tour the world and display the U.S. Navy's achievements. Seven "Great White Fleet" ships were built at Newport News Shipbuilding.
During times of war, shipyard workers ramped up production to meet the demands of the military. Newport News played a vital role in both World Wars by constructing numerous warships and vessels. The shipyard's workforce, including many veterans themselves, labored tirelessly to provide the Navy and Coast Guard with the ships it need to achieve victory.
Now operated under Huntington Ingalls Industries, the Newport News Naval Shipyard currently builds a majority of the U.S. Navy Fleet. The site sits on 550 acres that line 2 miles of the James River and the Chesapeake Bay.
History of Asbestos Exposure at Newport News Shipyard (VA)
Like many shipyards of its time, Newport News Shipyard has a historical connection to asbestos exposure. During the 20th century, asbestos was commonly used in shipbuilding due to its fire-resistant and insulating properties. It was utilized in various components of naval vessels, including gaskets, pipes, valves, and other equipment.
Asbestos exposure occurred as shipyard workers, including Navy, Coast Guard, Air Force, and Marine veterans, performed their duties in close proximity to asbestos-containing materials. Unfortunately, the harmful health effects of asbestos were not fully understood or taken seriously at the time. Adequate protective measures were not always implemented. As a result, some workers were exposed to asbestos fibers during maintenance, repair, or construction activities.
Over time, the health hazards associated with asbestos became evident. Prolonged exposure to asbestos can lead to serious respiratory diseases, such as mesothelioma, lung cancer, or asbestosis. These diseases often have a long latency period, with symptoms manifesting years or even decades after the initial exposure.
For veterans and former workers at Newport News Naval Shipyard during periods when asbestos use was prevalent, there is a heightened risk of asbestos-related diseases. Victims of asbestos-related diseases who served in the military and were exposed to asbestos may be eligible for certain health benefits and compensation through the Department of Veterans Affairs (VA).
Newport Shipyard Workers and Shipbuilding Risks
Newport News Naval Shipyard had various occupational positions that carried a risk of exposure to toxic chemicals and asbestos on barracks and ships. Some of these positions included:
Insulators: Insulators were responsible for installing insulation materials, which often contained asbestos, on pipes, boilers, and other equipment.
Pipe-fitters: Pipe fitters worked with pipes and plumbing systems, often encountering asbestos-containing insulation and gaskets while installing or repairing piping systems.
Welders: Welders play a crucial role in joining metal components together during ship construction and repair. Exposure to asbestos among welders happened while working in confined spaces.
Electricians: Electricians worked on the electrical systems for various types of vessels, including coast guard cutters.  Many electrical components were insulated with asbestos-containing materials.
Ship-fitters: Ship fitters were involved in constructing, repairing, and modifying the ship's structural components. Asbestos insulation and fireproofing materials were commonly used throughout the structure, exposing ship fitters.
Painters and Sandblasters: Painters and sandblasters prepare surfaces for painting or coating by removing old paint, rust, and contaminants. This process could have involved the release of asbestos fibers.
Boilermakers: Boilermakers worked on boilers and pressure vessels, which frequently required asbestos insulation. They faced potential exposure during installing, repairing, or removing insulation materials.
Sheet Metal Workers: Sheet metal workers fabricated and installed various metal components in the ship, including ductwork, ventilation systems, and metal panels that possibly contained insulated asbestos.
Other Shipyards Affected by Asbestos Exposure
Various military navy shipyards, including Newport News Naval Shipyard, used asbestos in different applications. These shipyards hired workers across various trades and positions, all facing the risk of asbestos exposure. Some of the shipyards that used asbestos in the U.S. include:
Certain parts of military property, including shipyards and air force bases, are currently considered EPA superfund sites because they contain contamination.
Virginia Newport News Naval Shipyard and Mesothelioma Risks Today
In Virginia, there are several notable military bases, including Jointed Bases Langley-Eustis, Yorktown Naval Weapons Station, Naval Station Norfolk, Joint Expeditionary Base Little Creek-Fort Story, Naval Air Station Oceana, Norfolk Naval Shipyard, and Portsmouth Naval Hospital. Altogether, these bases employ roughly 85,000 joint force military personnel and support an additional 120,000 family members, 68,000 retirees, and 27,000 civilian workers.
Virginia Mesothelioma Lawyer for Shipyard Workers
A mesothelioma lawsuit is a legal action taken by individuals who developed mesothelioma or another disease caused by exposure to asbestos. It is a common va misconception that veterans with mesothelioma would file a claim against the military. Claims involving veterans, however, typically seek compensation from asbestos manufacturers.
If you are a veteran seeking support regarding mesothelioma cases, you can consider turning to experienced mesothelioma lawyers who specialize in asbestos-related legal matters. Experienced lawyers have extensive knowledge of the legal complexities surrounding asbestos claims and can provide valuable guidance.
Veterans can utilize VA benefits to access cancer treatment centers and receive compensation for the loss of income that resulted from service-related injuries or disabilities. The VA offers a range of healthcare services, including medical treatment, mental health counseling, and rehabilitation programs for conditions such as mesothelioma. You can apply for these benefits through the VA.
If you are a veteran in Virginia or know someone who may require assistance, you can take action today and start the process with a free case evaluation to explore your options.