Camp Lejeune Water Contamination
Contamination from friable asbestos, benzene, and other cancer-causing chemicals at Marine Corps Base Camp Lejeune and Marine Corps Air Station (MCAS) New River in North Carolina put thousands of veterans and their family members at risk. From 1953 to 1987, those on active duty as well as in the Reserves and National Guard for at least 30 days could develop cancer or another long-term illness.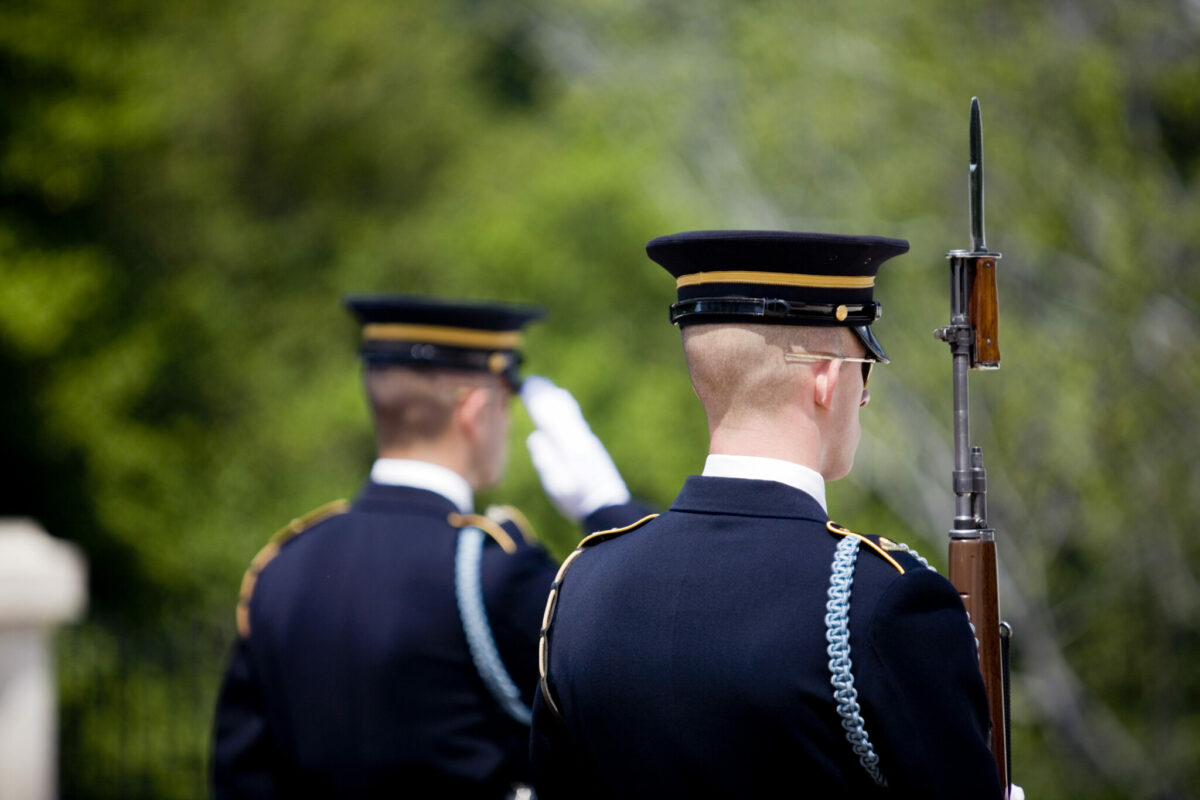 Asbestos Water Contamination at Camp Lejeune
October 2022 Update: The PACT ACT is now taking applications and is open for enrollment to Veterans.
The United States military was among the first major importers and users of asbestos, a known carcinogen. Every branch used the cancer-causing material to build ships, aircraft, barracks, and many other types of buildings. At Camp Lejeune, water contamination from toxic chemicals largely polluted the drinking water until the 1990s.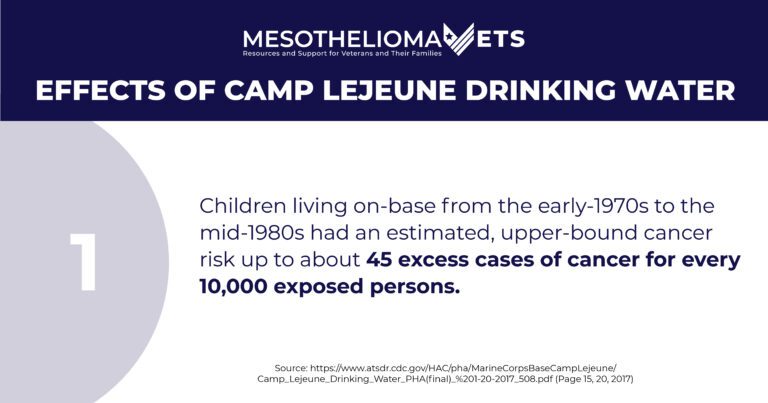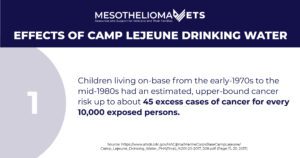 Over time, the contamination in water pipes supplying the bases' drinking water caused health problems among service members, their families, and civilians working there.
Potential health problems affected those serving on active duty and in the National Guard and Reserve units using the pipes Camp Lejeune and even other bases like Fort Ord.
Between 1953 and 1987, industrial solvents and other contaminants leaked into the water supply. The toxins included:
Asbestos
Benzene
Perchloroethylene (PCE)
Trichloroethylene (TCE)
Vinyl chloride
Other chemicals
Asbestos exposure is dangerous at any level. Typically, people inhale its dust from fraying insulation, crumbling tiles, or other deteriorating building material. However, the contamination at Camp Lejeune came from chemicals in the drinking water supply.
Eventually, continuing to drink contaminated water increases your risk of developing serious health problems. In some instances, drinking contaminated water for extended periods of time leads to cancers of the blood and in the digestive system.
Who Was at Risk at Camp Lejeune?
For decades, vinyl-lined asbestos-coated pipes across the Marine Corps Base Camp Lejeune and Marine Corps Air Station New River (MCAS NR) contained cancer-causing compounds. Consequently, anyone stationed at Camp Lejeune for at least 30 days is at risk of asbestos cancers and other diseases. Likewise, families of the men and women working on the base from the 1950s to the 1980s are at risk from the camp's drinking water.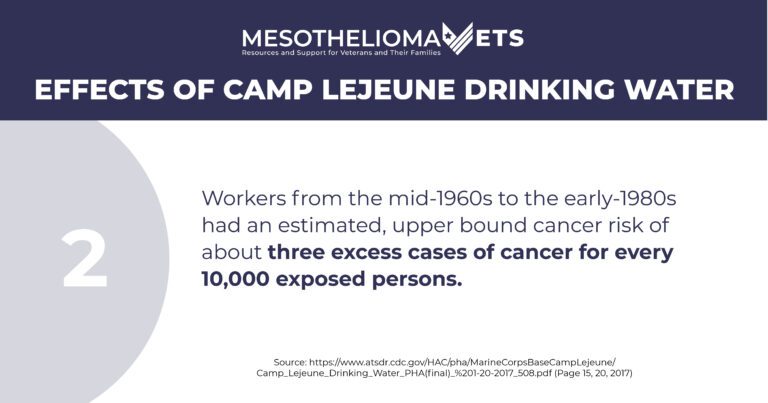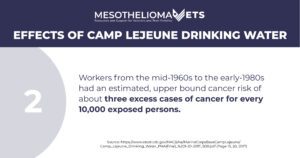 Primarily, the danger comes from contaminated wells and water systems. Moreover, asbestos on pipes, cement pipes, and the wrap surrounding it presented a substantial public health threat.
According to the Agency for Toxic Substances and Disease Registry, the Marines shut down the most contaminated wells by 1985.
Conditions related to Camp Lejeune water contamination include:
Adult leukemia
Aplastic anemia
Bladder cancer
Kidney cancer
Liver cancer
Multiple myeloma
Myelodysplastic syndromes
Non-Hodgkin's lymphoma
Parkinson's disease
Usually, many of the diseases linked to the Marine base's water supply take years to develop. You may not show symptoms of cancer until long after moving away from the area. Yet, being diagnosed with one of the diseases above, combined with a history at Camp Lejeune makes certain individuals eligible for additional benefits and compensation.
VA Coverage for Vets and Families at Camp Lejeune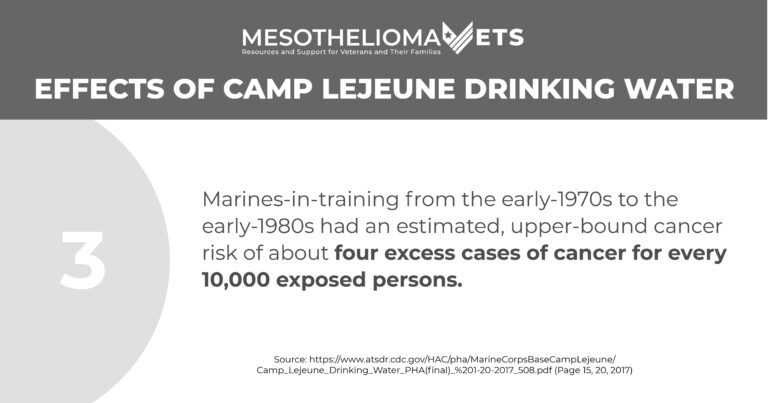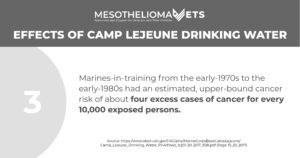 For veterans and their families, the Department of Veterans Affairs (VA) provides special, additional benefits for Lejeune-related health issues. To date, research has linked 15 conditions to Camp Lejeune water contamination.
If you spent 30 cumulative days at the Marine station and have a diagnosis of one of the conditions below, you're eligible for no-charge VA health care.
Camp Lejeune and MCAS New River covered conditions include:
Bladder cancer
Breast cancer
Esophageal cancer
Female infertility
Hepatic steatosis
Kidney cancer
Leukemia
Lung cancer
Miscarriage
Multiple myeloma
Myelodysplastic syndromes
Neurobehavioral effects
Non-Hodgkin's lymphoma
Renal toxicity
Scleroderma
Certain conditions qualify veterans, Reservists, and Guardsmen for disability benefits. With supporting evidence, the VA provides monthly compensation payments. Payment amounts range depending on the veteran's disability rating–categorized in increments of ten from 10% to 100%. Similarly, disability benefits qualify vets for VA-covered health care.
In 2012, Congress passed the Honoring America's Veterans and Caring for Camp Lejeune Families Act. As a result, veterans who qualify for VA benefits can also apply for benefits. If you served on an active-duty basis at the base for at least 30 days between August 1, 1953, and December 31, 1987, you may qualify for health coverage. Additionally, these benefits are available even if you weren't diagnosed with cancer or another disease related to water contamination on base.
Applying for Camp Lejeune VA Benefits
For eligible veterans, VA benefits cover health care (including hospital stays and prescriptions) and pay a monthly stipend. If you're not already enrolled, file for disability compensation with VA Form 21-526EZ (Application for Disability Compensation and Related Compensation Benefits). Too, the VA's online application can be used to increase disability ratings and benefits by adding a new or secondary condition.
When applying, include your military records stating you served at North Carolina's Camp Lejeune or MCAS River North. The service records must indicate that you served:
For at least 30 days in an affected area
Between August 1953 and December 1987
On active duty or in the National Guard or Reserves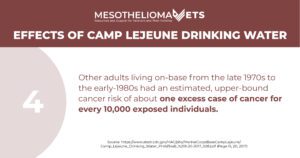 Family members of veterans should include the above documentation along with evidence of their relation to the vet (such as a marriage license, birth certificate, or adoption paper). Lastly, be sure to include your medical records signifying a diagnosis with one of the covered conditions. The VA encourages applicants to state they're applying for a Camp Lejeune-caused illness in their applications. A Treating Physician Report can provide helpful information to those determining your final benefit amount.
You can file online at VA.gov, on the VA and Department of Defense's joint eBenefits website, in person with an accredited representative (usually a veterans service officer or VSO), or in person at a regional VA office.
Camp Lejeune Contamination Lawsuits
In 2017, the VA began paying disability compensation to some of the 900,000 servicemembers affected by tainted water at Camp Lejeune. However, the costs of treatment and lost wages for many veterans and their families led thousands to seek legal compensation. Yet, in 2019, the secretary of the Navy denied all remaining lawsuits against the Department for exposure at the North Carolina military base. In total, the secretary dismissed about 4,500 plaintiffs' civil claims.
"There is no legal way for the Department of the Navy" to pay damages in these cases, Spencer said in an interview. "We are denying the claims to free everybody to take their own course of action."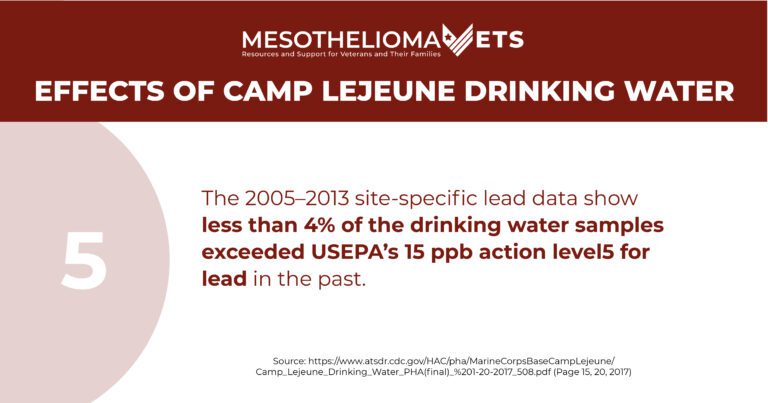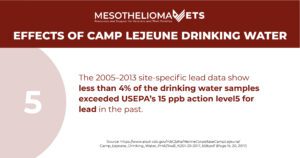 Several legal statutes prevent servicemembers and prior service members from filing a lawsuit against the federal government for injuries sustained during service. However, the Camp Lejeune Justice Act of 2021 may offer a chance for people affected by the contaminated water to seek compensation. If passed, the bill would allow eligible individuals to file in the Eastern District of North Carolina for injuries, illnesses, or the death of a loved one.
The 'Honoring our Promise to Address Comprehensive Toxics Act' was recently voted through the U.S House of Representatives and is now on its way to Congress. This legislation which is being labeled as the PACT Act HR 3967, aims to improve health care and benefits for veterans that faced toxic exposure through military services. Typically, personal injury or wrongful death suits are a result of negligent exposure to carcinogens. Consulting with knowledgeable Camp Lejeune attorney can detail your legal and potential settlement options.
UPDATE: The Honoring Our PACT Act was pushed through the senate this August 2022.