Long Beach Naval Shipyard
The Long Beach Naval Shipyard operated from 1938 until 1997 as a ship repair facility for the U.S. Military. With significant pushback from the Navy and congressional members, the facility closed due to its reduction in nuclear shipyards. Most ships contained sheet metal, boilers, electrical wires, insulation, pipes, and other parts, causing of thousands of asbestos-related abnormalities dating back to the 1970s.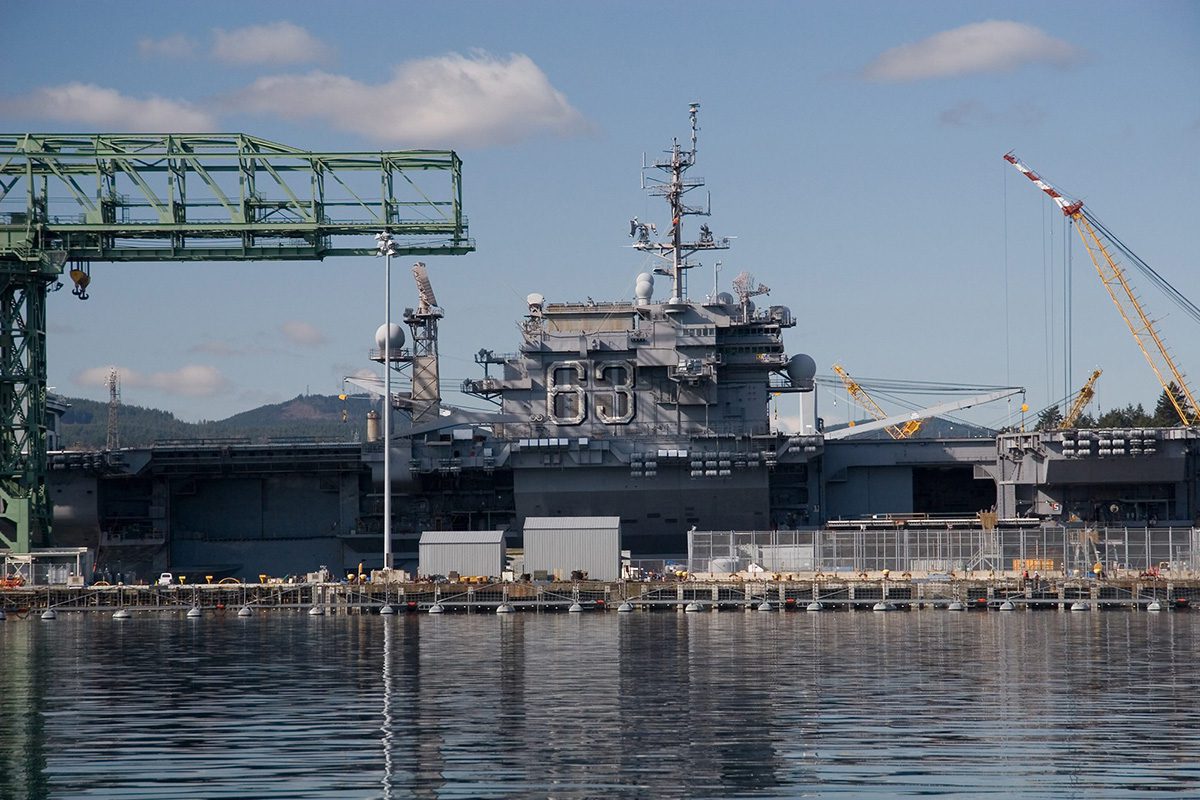 Long Beach Naval Shipyard – Shipbuilding Corporation
Long Beach Naval Shipyard was located on the artificial Terminal Island in Los Angeles County, California, between the Sand Pedro district and the city of Long Beach. The Federal government began leasing 214 acres of land in 1935 for use by the Pacific Navy fleet.
By the end of World War II, the military had built over 150 buildings spanning nearly 2.5M sq. ft. Additionally, the shipyard built three dry docks and five industrial piers, possessing capabilities to design, engineer, build, repair, and maintain military navy ships.
During the Korean War, the shipyard hosted attack carriers, destroyer escorts, minesweepers, and MSTS* ships. The site contained additional supply and fuel ships for transport overseas. In the decades following the Korean War until the site's closure in 1997, the Long Beach Naval Base and Shipyard became involved in several special projects. Notable programs hosted at the site include POLARIS, POSEIDON, and SEALAB.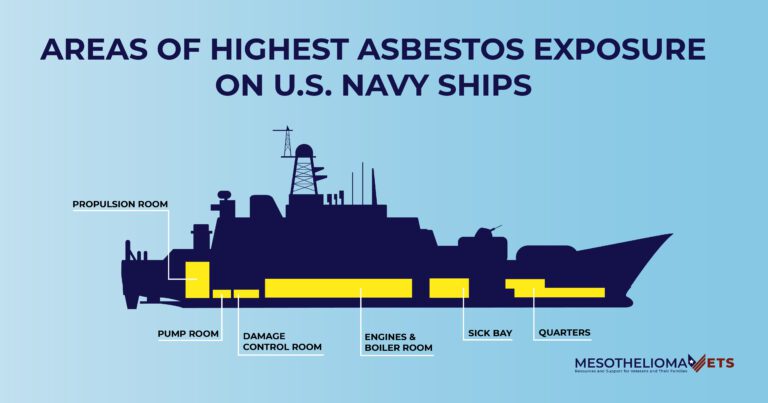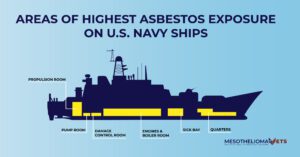 California Shipyard Asbestos Exposure History
Up until the 1970s, military facilities and shipyards such as the Long Beach Naval Shipyard used abundant amounts of manufactured asbestos-containing materials. The naturally occurring mineral was once heavily mined in the U.S. and imported from other parts of the world. Nearly one-third of mesothelioma cases involve veterans.
Companies like Johns Manville, Owens Corning/Fireboard Corp., and W.R. Grace & Co. supplied all five branches of the military with asbestos-containing products designed to withstand heat and fire. Scientists confirmed their concerns about the potential health effects of asbestos in the 1930s, but the EPA did not begin regulating the carcinogen until 1973.

During World War II, the shipyard provided regular repairs of cargo ships, Coast Guard Cutters, transport ships, destroyers, cruisers, tankers, and other surface ships. A majority of building operations at the site involved the use of asbestos-contaminated materials. Routine maintenance involving boilers, electrical work, welding, and pipe fitting was a source of additional exposure to asbestos. 
Military Occupations Involving Asbestos Exposure:
Boiler technicians

Electricians

Enginemen

Hull maintenance technicians

Insulators

Machinery repair technicians

Machinists

Painters

Pipefitters

Sandblasters

Sheetmetal workers

Shipbuilders

Welders
Related: Coast Guard Veterans and Mesothelioma
Asbestos Use at the Long Beach Naval Shipyard
The usage and potential exposure of asbestos at the Long Beach Naval Shipyard occurred in buildings, aboard Navy and Coast Guard ships, and in military vehicles. There were hundreds of uses for asbestos inside engine and boiler rooms, sleeping quarters, navigation rooms, and mess halls. Shipyard workers commonly came into contact with asbestos when carrying out routine repairs, maintenance, and overhauls of ships.
Some other shipyards that may have utilized asbestos include:
San Diego Naval Shipyard
Bethlehem Steel Shipyard
Brooklyn Navy Yard Shipyard
Bremerton Naval Base Shipyard
Present Day Activities at Long Beach Naval Shipyard
After Long Beach Naval Shipyard closed, the city of Los Angeles gained control of the land. Chinese-owned shipping company COSCO offered to lease the space for the price of $14.5 million per year but was met with major opposition from lawmakers. Instead, the city leased the newly-renovated cargo terminal to Hanjin Shipping and Mediterranean Shipping Company (MSC).
Does the Long Beach Naval Shipyard Still Build Ships?
The Long Beach Naval Shipyard does not still build ships and hasn't repaired any since its closure. It was not known to build ships. During World War II, the base performed over 300 major repairs and overhauls and docked over 400 ships. After the war, the shipyard stored World War II ships. Although the military reactivated some ships for the Korean War and Vietnam War, many were scrapped and sold for parts. Asbestos exposure on Navy ships commonly occurred during this process.

Related: Top 5 Army Benefit Myths and Misconceptions
Is There a Long Beach Naval Shipyard Asbestos Settlement?
Civilian and military shipyard workers were exposed to significant amounts of asbestos and were more at risk of developing cancer. Mesothelioma attorneys help victims file lawsuits against companies responsible for asbestos exposure. Settlements and compensation from wrongful asbestos exposure have led to millions of dollars recovered for veterans. shipyards can cover expenses related to treatment and loss of income.
If you are a veteran or know a veteran who has been diagnosed with mesothelioma, you may be eligible to pursue legal action against the companies responsible for exposure to asbestos. Victims or their families receive money won from one or multiple revenues of legal action, including personal injury or wrongful death claims, class action lawsuits, or trust funds.
Veterans or former servicemembers diagnosed with mesothelioma can receive benefits through the Department of Veterans Affairs (VA). Victims can access the eBenefits and VA.gov websites to register for benefits and apply for disability compensation. Additional benefits can provide funding for housing, health care, insurance, and burials.
With veterans' benefits, mesothelioma patients can access cancer treatment at VA medical centers across the United States. Hospitals in the VA system that specialize in mesothelioma treatment include:
Contact Mesothelioma Vets for important cancer resources, including how to receive legal compensation.