Ingalls Shipbuilding | History & Asbestos Exposure
Ingalls Shipbuilding Company in Pascagoula, MS is a leading producer of ships for the U.S. Navy. Between its opening in 1938 and the late 1970s, Ingalls shipbuilding and other shipyards across the country used large amounts of products containing a carcinogen called asbestos.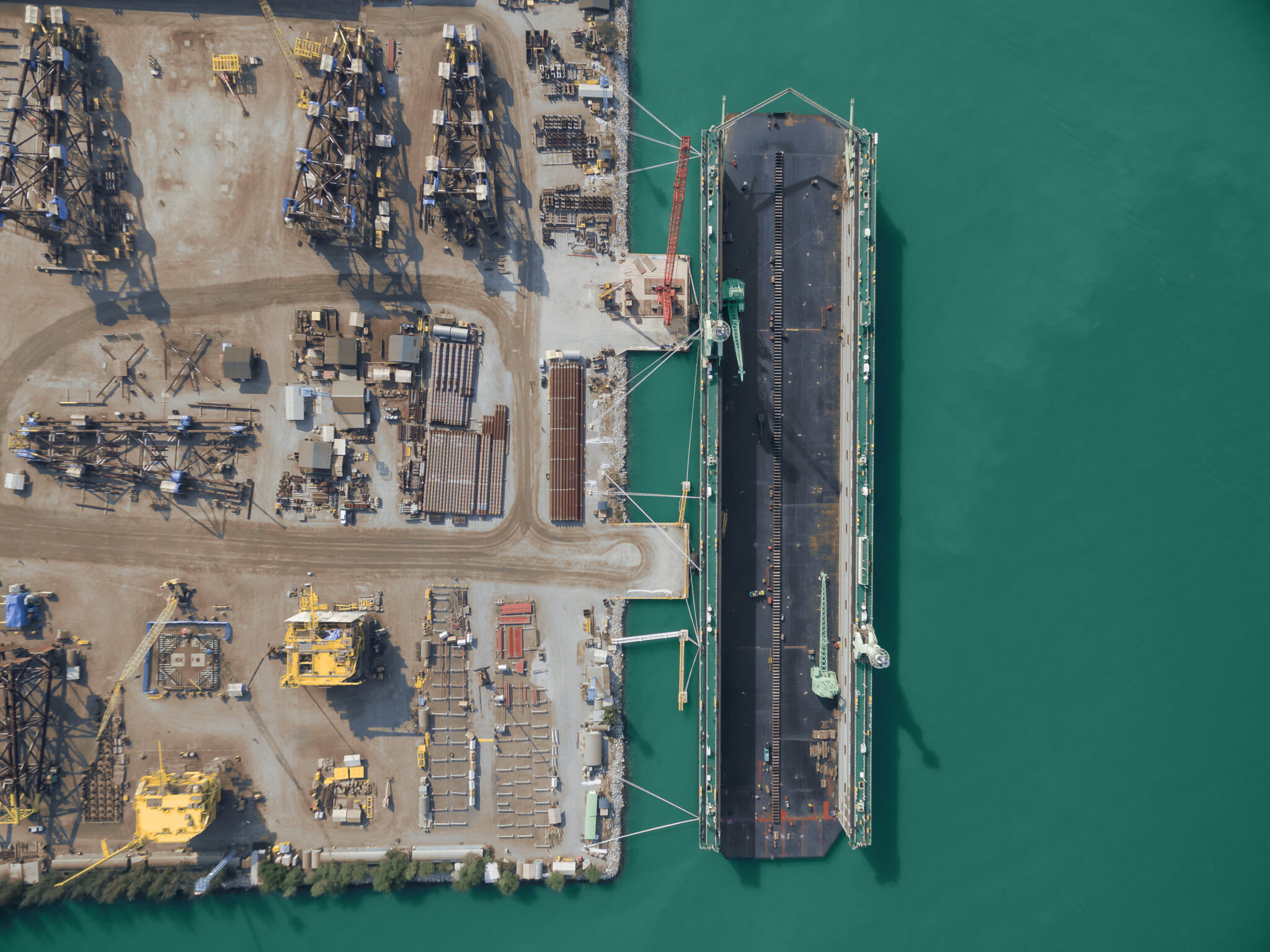 Ingalls Shipyard – Mississippi Shipbuilding
Ingalls Shipbuilding Company, founded by Robert Ingersoll Ingalls Sr., opened in 1938 in Pascagoula, Mississippi on the East Bank of the Pascagoula River near the Mississippi River confluence. Shortly after opening, the commercial shipyard began producing ships for the U.S. Military. Today, the shipyard remains one of the largest producers of U.S. Navy ships.
Prior to World War II, the shipyard focused on commercial projects. Then, in September 1941, Ingalls Shipbuilding participated in Liberty Fleet Day, a national campaign intended to quickly build supply ships for allies involved in the war and later the U.S. military. The shipyard contracted with the military again in 1957 to build 12 nuclear-powered submarines. 
In 1961, Ingalls Shipbuilding was acquired by Litton Industries. The new company expanded its facilities across the river a few years later, spanning 800 acres. The Ingalls Shipyard reached peak employment of 27,280 workers in 1977. Several soldiers and civilians began experiencing health issues as a result of exposure to asbestos at Ingalls Shipbuilding many years prior.
Ingalls Shipyard Asbestos Exposure History
Throughout the 1900s, the U.S. military bought and utilized large amounts of a natural mineral called asbestos. The fibrous mineral was mined domestically and imported from other countries for a large part of the 1900s. Once extracted, companies manufactured the mineral into standard building materials such as insulation, ceiling, and flooring tiles. Shipbuilding components were produced with asbestos because of the mineral's ability to resist fire, corrosion, and heat.
As one of the largest suppliers of Navy ships, the Ingalls Shipbuilding Company did use asbestos in Navy ships produced there. By 1960, the shipyard had already built more than 250 vessels containing asbestos. Between 1975 and 1980, the shipyard furnished 70 percent of U.S. Navy ships, potentially exposing thousands of service members to the carcinogen.
Exposure to asbestos can occur by inhaling or ingesting airborne fibers. Asbestos fibers that enter the body can become stuck in the lining of the lungs, chest cavity, or abdomen resulting in damage, scarring, and possibly cancer. The risk for health complications from asbestos exposure increases among veterans. Small, poorly ventilated areas aboard Navy and Coast Guard ships could quickly become toxic if asbestos fibers were disturbed. 
Ships built at Ingalls Shipbuilding:
USS Markab (Ad-21)
USS Arthur Middleton (Ap-55/Apa-25)
USS George Clymer (Apa-27)
USS Custer (Ap-85/Apa-40)
USS Dupage (Ap-86/Apa-41)
USS Elmore (Apa-42)
USS Fayette (Apa-43)
USS Fremont (Apa-44)
USS Henrico (Apa-45)
USS Knox (Apa-46)
USS Lamar (Apa-47)
USS Leon (Apa-48)
USS Burleigh (Apa-95)
USS Dade (Apa-99)
USS Mendocino (Apa-100)
USS Montour (Apa-101)
USS Riverside (Apa-102)
USS Westmoreland (Apa-104)
USS Guilford (Apa-112)
USS Hamblen (Apa-114)
USS Hampton (Apa-115)
USS Hanover (Apa-116)
USS Griggs (Apa-110)
USS Grundy (Apa-111)
USS Altamaha (Cve-6)
USS Breton (Cve-10)
USS St. George (Cve-17)
USS Antietam (Cg–54)
Does the Ingalls Shipyard Still Build Ships?
Ingalls shipyard still builds ships today. The shipyard operates under Huntington Ingalls Industries and remains the largest military shipbuilding company in the United States. Ships built there today do not contain asbestos. Recent ships constructed here include:
U.S. Navy Landing Platform Docks (LPD)
U.S. Navy Large Deck Amphibious Assault Ships
U.S. Navy Guided Missile Destroyers
U.S. Coast Guard National Security Cutter
Asbestos Use at the Ingalls Shipyard
Exposure to asbestos at Ingalls Shipbuilding could have occurred during the production, maintenance, or disassembly of military vessels. Due to asbestos use at shipyards like Ingalls Shipbuilding, veterans account for nearly a third (30 percent) of mesothelioma cases across the United States. Shipyard occupations at risk of exposure to carcinogens, such as asbestos include:
Aviation machinists
Boiler technicians
Damage control
Electricians
Enginemen
Hull maintenance technicians
Machinery repair technicians
Naval aviators/gunners
Pipefitters
Seabees
Hundreds of components aboard vessels contained asbestos. Common high-risk areas aboard Naval ships and Coast Guard cutters typically include engine and boiler rooms, sleeping quarters, mess halls, and navigation rooms.  Common asbestos products found on ships and at shipyards include:
Flooring
Tile
Boilers
Pipe insulation
Pumps
Valves
Insulation
Mississippi Asbestos Exposure Beyond Ingalls Shipbuilding
The Mississippi River borders the entire western side of the state. The abundant water access, including part of the Gulf of Mexico, attracted various industries, including oil refining, shipbuilding, and power and chemical production. Workers in Mississippi at risk for occupational asbestos exposure could include:
Boiler operators

Carpenters

Chemical workers

Demolition workers

Dock workers

Electrical plant operators

Electricians

Gas fitters

Oil refinery workers

Shipyard workers

Welders
Armstrong Cork Company
Asbestos exposure in the Navy occurred frequently, but workers in certain commercial industries also risked coming into contact. Armstrong World Industries is a national provider of flooring and ceiling materials. The company used to operate a Jackson plant, called Armstrong Flooring before the location separated into Armstrong Cork Company. Armstrong World Industries paid over $1 billion in compensation after thousands of employees and consumers suffered injuries from their asbestos products.
Is There an Ingalls Shipyard Asbestos Trust Fund?
Trust funds provide monetary compensation to victims of asbestos-related injuries. Trust fund eligibility depends on the companies' status, and funds come from asbestos manufacturers, not shipyards. Individuals diagnosed with mesothelioma or another asbestos-related illness have various legal options, including personal injury or wrongful death claims.
Financial compensation obtained from mesothelioma lawsuits and settlements can cover costs associated with loss of income or traveling to a mesothelioma cancer treatment center. A mesothelioma lawyer can ensure the best outcome for victims and their families so feel free to reach out to us to help you with any or all steps of the process.