10 eBenefits and VA.gov Tips for Veterans
The eBenefits and VA.gov websites can be complicated to navigate, so we answered users' frequently asked questions.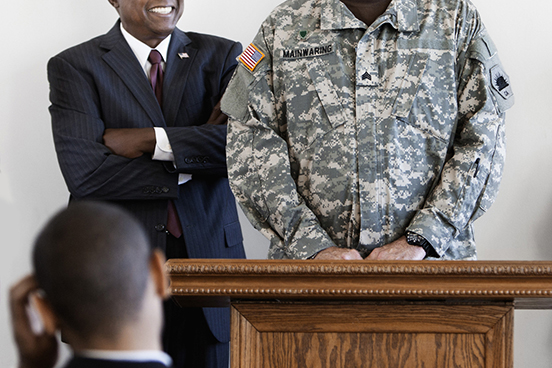 Tips for Navigating the VA.gov eBenefits Website
The Department of Veteran Affairs utilizes eBenefits to allow users to manage their benefits online. However, the eBenefits website can be complicated and ever-changing. Therefore, Mesothelioma Vets has gathered ten eBenefits VA tips for veterans and service members alike to navigate the eBenefits and VA.gov websites easily. The website also features family access, which is convenient when needing to access medical, insurance, or education information while the veteran or service member is away.
What are eBenefits?
eBenefits is a web portal created by the Department of Veterans Affairs and the Department of Defense. The website provides Veterans, Service members, and their families with resources and self-service abilities. People can access their personal information and manage their VA and military and veteran benefits through the web portal. Within the eBenefits site, Veterans and Service members can access personnel documents, view the status of their disability compensation, transfer the entitlement of GI Bills to eligible dependents, consider their level of military discharge, and much more. The eBenefits web page focuses primarily on:
Compensation
Pension
Housing
Education and Training
Health Care
Insurance
Burials
Who is eligible for eBenefits?
eBenefits are suitable for Veterans, Service members, Wounded Warriors, family members, and authorized caregivers. Because the eBenefits website focuses on compensation, those that incurred injuries or disability due to their service are eligible for Disability Compensation. For example, Service members or Veterans exposed to asbestos that led to the development of mesothelioma can file a Disability Compensation claim.
Top 10 VA eBenefits Questions and Tips
On the eBenefits website, there are several features veterans can utilize. Additionally, there are features for active Service members on the eBenefits website. Service members are different from veterans as service members must have served 24 months of active duty to be considered a Veteran. Also, on the eBenefits website, family members can access certain features for their Veteran or Service member.
1. Is eBenefits Going Away?
On March 31, 2022, Veterans and Service members will need to access their VA benefit and service information online through the VA.gov website. The eBenefits website is still active but now redirects users to other platforms.
2. How Do I Access VA eBenefits?
Veterans and Service members can access eBenefits on the eBenefits website. Before users can access eBenefits, they must have DS Logon, and their names must be listed in the Defense Enrollment Eligibility Reporting System.
3. How Do I Register for an eBenefits Account?
People can register for two types of accounts on the eBenefits website: Basic and Premium. Veterans and Service members can register for an eBenefts account using the online DS Logon Account Registration Wizard. The website will prompt users to answer questions and verify their identity through security questions through the registration portal.
4. eBenefits VA login Help
Users can log in to their eBenefits VA account through the DS Logon portal. Veterans, Service members, and family members will have to consent to the US Government monitoring the Information System. They will need access to their DS Logon Username and Password to log in properly.
5. Finding the Disability Page
On the eBenefits home page, there is a "Main Menu" option in the top left of the site. Under the main menu, users should click "Apply." Under the "Apply" page, there is a "Compensation" header where users can find "Disability Compensation." When users click "Disability Compensation," the site will take them to the disability page.
6. Easy to Obtain DD 214 Form
On the eBenefits website, users should click "Manage" under the "Main Menu" tab at the top of the page. Once on the "Manage Your Benefits" page, click "Documents and Records." Next, the site will transition users to the "Access Your Documents and Records" page, where they should click "Military Personnel File." The site will direct users to a page where they can request their DD 214 form.
7. How to Upload on eBenefits
Users should have scanned the necessary documents before accessing the site. Once logged in to the eBenefits website and on the desired page, users will fill out the required information before being able to upload documents. Under the "Upload Documents" tab, select "Manage Files," where users can upload the desired documents. A representative will check the claim and ensure users have the required documents. Once verified, users should click "Submit."
8. Easily Update an Address
On the home page of the VA eBenefits website, click the "Update Direct Deposit and Contact Information" link where users can update their address with new information.
9. Does eBenefits Update in Real-Time?
If a user makes an update on the eBenefits website, they should see an update within an hour. However, if an update is made by mail, it can take around two weeks to see an update.
10. When Does eBenefits Update Disability Ratings?
After a user makes a disability ratings claim, it typically takes three to four months to be fully processed. After the claim is processed, administrators will update the information on the eBenefits website.