Children of Veterans
Any form of cancer, especially one as rare as mesothelioma, can come as a surprise. This impact is worsened when it is a direct result of the exposure that a veteran suffered while serving their country. If you are a child of a veteran looking for emotional support, know that you are not alone and one of our patient advocates can help direct you to help. Additionally, If you are dependent on a veteran parent, the VA may provide health care, education, or compensation benefits to children under 18 and adult children.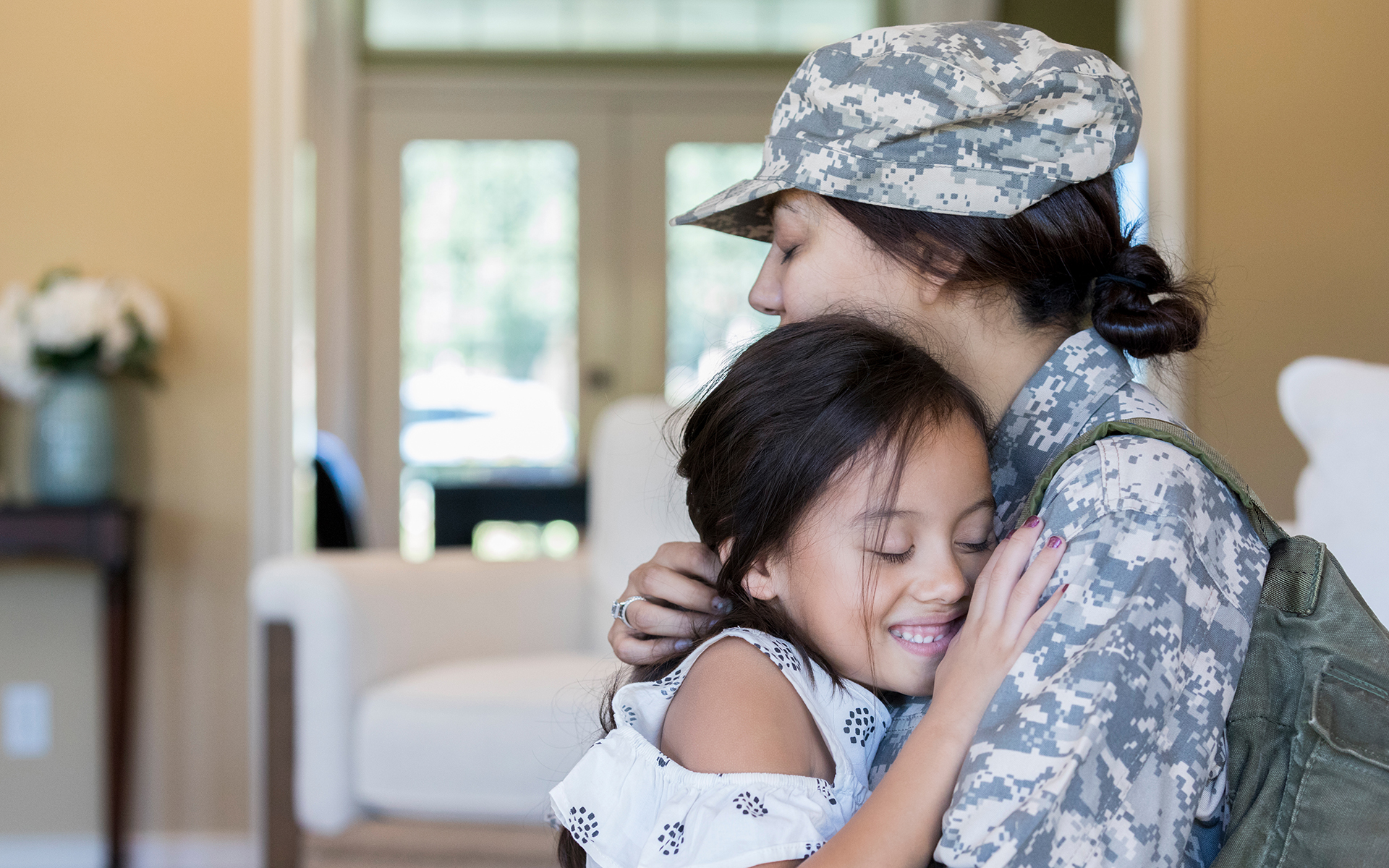 Children of Veterans With Mesothelioma
Children of veterans with mesothelioma may need assistance after their loved one has been diagnosed with cancer. Children under 18 who lose a parent to an illness connected to their military service (like diseases related to asbestos exposure) may be entitled to a range of benefits from the VA. Similarly, minor children may qualify for Social Security benefits from eligible workers.
Conversely, adult children of veterans with mesothelioma require other types of financial aid and veteran-related support. Often, adult children become caregivers for parents – even when they don't live in the same city. In these cases, children of vets may need additional resources like care training or travel assistance.
To honor a veteran after their death, surviving children can apply to the VA for help with end-of-life services. The VA provides programs that assist family members in planning a burial in a VA national cemetery, replacing lost medals, accessing military service records, and more.
VA Support for Children of Veterans
The types of VA benefits children of veterans qualify for typically depend on the veteran's benefits eligibility and the age of the child. Support for dependent children of vets may include health care coverage, education assistance, and financial compensation. After a parent passes, the VA offers a variety of resources for both minor and adult children.
Keep reading for more information about VA-provided support for children of veterans.
Family Caregivers for Retired Veterans
Adult children who become the caregiver of a veteran receiving disability benefits may qualify for VA assistance. The Program of Comprehensive Assistance for Family Caregivers (PCAFC) is available for certain vets with service-connected disabilities. A veteran can designate up to three family caregivers (one primary and two secondary caregivers).
Children who become a primary family caregiver could qualify for:
Healthcare coverage
Monthly compensation payments
30 days per year of respite care for vet
Any eligible family caregiver could get:
Education and caregiver training
Mental health counseling
Travel, lodging, and financial assistance when taking vet to treatment
The Program of General Caregiver Support Services (PGCSS) offers support for caregivers and veterans regardless of service-related conditions. Caregivers can receive training at a VA medical center (VAMC) and use some VA home care services.
Compensation for Children of Veterans
Children of veterans may be entitled to VA survivor benefits if the death was caused by a service-related illness or injury. Known as VA Dependency and Indemnity Compensation (DIC), the program provides tax-free monthly payments to surviving children – and spouse, if applicable.
Factors that may limit DIC rates for (or disqualify) surviving children include:
Age
Enrollment in VA-approved school program
Marital status
Number of dependent children
Permanent disability occurring before age 18
Surviving spouse eligibility
Children of some vets may also qualify for Survivors Pension benefits. Pension payments are designated for dependents of wartime veterans. Eligibility for Survivors Pension compensation depends on several similar factors.
Dependents may receive whichever compensation benefit is greater – DIC or Survivors Pension.
Educational Opportunities for Children of Veterans
Depending on their parent's eligibility, children of veterans may qualify for education assistance and employment training. VA education benefits (Chapter 35) and Personalized Career Planning and Guidance (Chapter 36) programs help children realize their future career goals. Other dependent VA education benefits include the Post-9/11 GI Bill (Chapter 33) and the Montgomery GI Bill (Chapter 30).
Dependents whose parent is permanently and totally disabled due to military service may be eligible for the above education assistance as well as some surviving children. Parents can also transfer certain education benefits to children.
Education and career guidance benefits include:
Assistance planning steps to employment
Education and training
Help to decide the best use of VA benefits
Funding for books and school supplies
Funding for housing
Programs to explore career interests and abilities
Tuition payments
Health Care and Dependent Children
Typically, dependent children qualify for VA health care coverage if their parent qualifies. Biological, stepchildren, and adopted children may be covered by their parent's TRICARE insurance until the age of 21 (23 if enrolled in college) if they are unmarried.
The VA cost-sharing program, The Civilian Health and Medical Program of the Department of Veterans Affairs (CHAMPVA), is available to some current and surviving children of disabled veterans. CHAMPVA health care may also be available to adult children of veterans who become their caregivers.
Veteran Life Insurance Beneficiary
In most cases, the child of a vet is the beneficiary (and not the policyholder) of a VA life insurance plan. Servicemembers' Group Life Insurance (SGLI), Veterans Group Life Insurance (VGLI), and Service-Disabled Veterans Life Insurance (S-DVI) plans are offered by the VA to veterans. Dependent children may be covered by the VA's Family Servicemembers' Group Life Insurance (FSGLI).
Veteran Memorial Items and Burial
One of the primary missions of the VA is to continue honoring veterans after they've passed. Surviving children can apply to the VA for several end-of-life services, such as help planning and paying for burial in a VA cemetery, memorial items for graves, and bereavement counseling.
Adult children of vets can also use the VA website to:
Find national, state, and tribal government veterans' cemeteries
Order replacement awards, decorations, and medals
Request military records
Search historical military records
Schedule a burial
View the VA national cemetery daily burial schedule
Other Benefits for Children of Veterans
Children of veterans could qualify for other benefits based on their parent's age or physical disability.
Health Insurance
Most children under 26 years old are still covered by their parents' health insurance, due to the Affordable Care Act. However, certain benefits (like Medicare) are only available on an individual basis. Consequently, Medicare is not offered to dependents. They must apply on their own.
In the event of a parent's death, children may qualify for Medicaid or Children's Health Insurance Program (CHIP) health coverage.
Social Security
Children of vets with mesothelioma may be able to receive a portion of their parent's Social Security benefits. Benefits of parents who are disabled, retired, or deceased help unmarried children under 18 (in most cases) finish high school and pay for everyday necessities. Stepchildren, grandchildren, step-grandchildren, and adopted children may also qualify for Social Security compensation.
About 4.2 million children received monthly Social Security benefits in 2017 because of a parent's disability, retirement, or death.
Legal Compensation and Support
If a parent's death is caused by asbestos exposure, their children or another family member may receive legal compensation. Pursuing a legal case does not mean children are suing the VA or the military. Instead, lawsuits are filed against the company (or companies) responsible.
The statute of limitations for each state determines the amount of time available to file a case. In states like California, you have as little as one year to file.
Speak with a mesothelioma attorney as soon as possible to explore options including: