Mesothelioma VA Burial Benefits
Veterans and their family members whose death was caused by mesothelioma are eligible for VA burial benefits. The VA works together with several military-interest organizations to provide benefits for the gravesite, reimbursement for funeral costs, memorial items, and survivors' compensation payments for spouses, dependents, and surviving parents who qualify.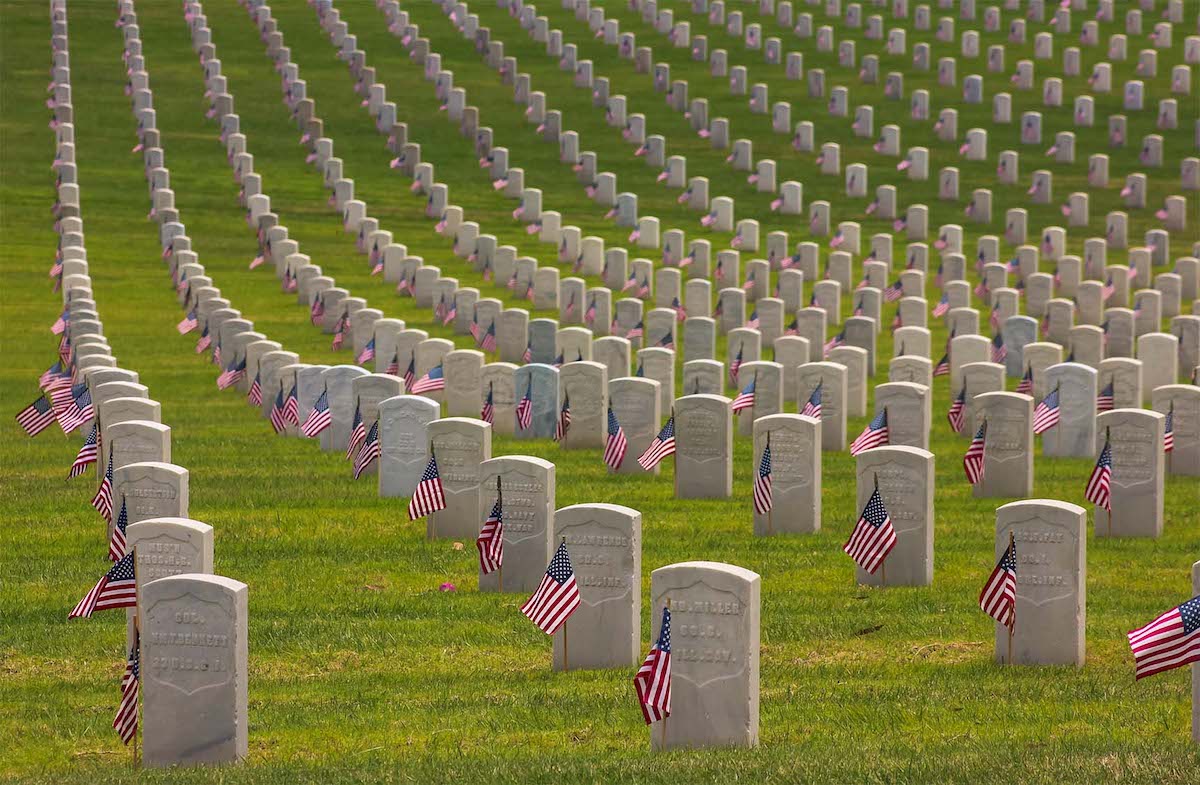 VA Burial Benefits for Veterans With Mesothelioma
Mesothelioma is more common among veterans because of the military's extensive use of asbestos-containing materials in ships, air and ground transportation, and many types of buildings. As a service-connected illness, the Department of Veterans Affairs (VA) covers health care for the disease and provides end-of-life coverage. VA burial benefits range from a gravesite in a national cemetery to memorial displays at the grave. Additionally, surviving family members may qualify for help with funeral costs and other benefits.
Currently, available VA burial benefits provided at no cost to eligible families include:
Gravesite in any national cemetery that has space available
Burial flag
Government-provided headstone
Grave marker
Presidential Memorial Certificate
Continuous gravesite care
Opening and closing of the grave
Funeral and Burial Resources
Today, the VA helps veterans and their families plan funerals in VA national cemeteries across the country. Also, the organization provides burial cost compensation and other burial benefits for qualifying individuals.
To talk with a representative about VA burial benefits, call the following numbers:
Headstones and grave markers: 800-697-6947
MyVA411 info hotline: 800-698-2411
National Cemetery Scheduling Office: 800-535-1117
VA benefits hotline: 800-827-1000
TTY: 711
To receive memorial items for a deceased veteran, you'll likely have to apply. Applications with VA Form 40-1330  for burial benefits can be submitted online, by mail, or by fax.
To place VA medallions on a private headstone or grave marker, download and submit the Claim for Government Medallion for Placement in a Private Cemetery (VA Form 40-1330M).
Available grave markers and medallions from the VA:
Bronze medallions (small, medium, or large)
Medal of Honor medallions (medium or large)
Flat grave markers (granite or marble)

24 inches long, 12 inches wide, and 4 inches thick; weight is approximately 130 pounds

Flat grave markers (bronze)

24 inches long, 12 inches wide, with 3/4-inch rise; weight is approximately 18 pounds

Niche marker (bronze)

8 1/2 inches long, 5 1/2 inches wide, with 7/16-inch rise; weight is approximately 3 pounds

Upright headstones (granite or marble)

42 inches long, 13 inches wide, and 4 inches thick; weight is approximately 230 pounds
Burial Flags
Commonly, families want a burial flag to celebrate their loved one's history of military service. Burial flags can be draped over a casket or folded and placed next to an urn.
Burial flags are available to veterans and Reservists that meet one of the following criteria:
Served in wartime
Died while serving on active duty after May 27, 1941
Served after January 31, 1955
Served in peacetime and left military service before June 27, 1950, after serving at least 1 enlistment, or because of a disability that was caused (or made worse) by their active military service
Served in the Selected Reserves (in certain cases), or served in the military forces of the Philippines while in service of the United States and died on or after April 25, 1951
Download and fill out VA Form 27-2008 for a burial flag. Next, bring the form to the funeral director or a VA regional office. Also, many United States Post Office locations accept the form and provide burial flags.
VA Burial Allowance
The VA offers a burial allowance for a veteran's funeral or burial costs if you meet certain requirements. For example, the VA will pay to transport remains for burial in a national cemetery. Foremost, you may not be reimbursed for costs by another group (including the veteran's former employer).
Family members of honorably discharged veterans who died of mesothelioma qualify if they are one of the following:
Surviving child of the veteran
Surviving parent of the veteran
Veteran's surviving spouse
Legally represent the veteran's estate
As a surviving spouse, you don't need to apply for a burial allowance. The VA automatically pays a set amount upon receiving notice of the death. Compensation helps pay for:
Cost of interment
Grave plot
Transporting remains to a cemetery
Service-related illnesses that lead to death, like mesothelioma, qualify applicants to a burial allowance of:
$2,000 (if the Veteran died on or after September 11, 2001)
$1,500 (if the Veteran died before September 11, 2001)
Headstone and grave marker allowances range from $195 to $290, depending on the veteran's eligibility.
Applications for veterans' burial benefits and allowances should download and fill out the Application for Burial Benefits (VA Form 21P-530) or apply online.
To ease the stress of handling end-of-life arrangements, apply for Pre-Need Eligibility. A pre-need decision letter is submitted before the veteran's death and lays out the plan for burial in a national cemetery. With a pre-need letter, the funeral and burial are planned and managed by the VA. Fill out an Application for Pre-need Determination of Eligibility for Burial in a VA National Cemetery (VA Form 40-10007) or apply online.
VA Burial Benefits FAQ
Can families of veterans (spouses and dependents) get memorial items for a private cemetery?

No; the VA doesn't provide markers for spouses or dependents buried in private cemeteries.

Does the VA pay for burial at sea?

No; the VA does not offer burial at sea. Instead, contact the Department of Navy's Burial at Sea office by calling 1-866-787-0081.

How do I find available space in a VA national cemetery?

There are 155 national cemeteries managed by the VA in 42 states. Call the National Cemetery Scheduling Office at 800-535-1117 or use their online resources to search cemeteries. Note: There is not a VA National Cemetery in every state in the U.S.

How much does a burial flag cost?

If you qualify for a burial flag, the VA will provide one for free after applying.

Will the VA pay for cremation or other burial costs?

The VA does not directly pay for any funeral home services. The VA offers a burial allowance to cover the cost of some funeral expenses for qualifying families.

What military honors are included in funeral service for a veteran?

Military funeral honors pay respect to deceased service members with dignity. Honors include playing "Taps," a rifle detail, a color guard, and uniformed service members to present the burial flag (including one from the veteran's branch of service).

Who signs the Presidential Memorial Certificate (PMC)?

The current President signs the engraved memorial paper certificate.