Resources for Veterans With Mesothelioma
Resources from several federal, state, and local organizations are available to help veterans diagnosed with mesothelioma. Patients and families may need help paying for treatment, covering the costs of travel, and managing bills after lost work. Family members of veterans can also use some resources to learn more about mesothelioma cancer, caregiver training, and end-of-life services.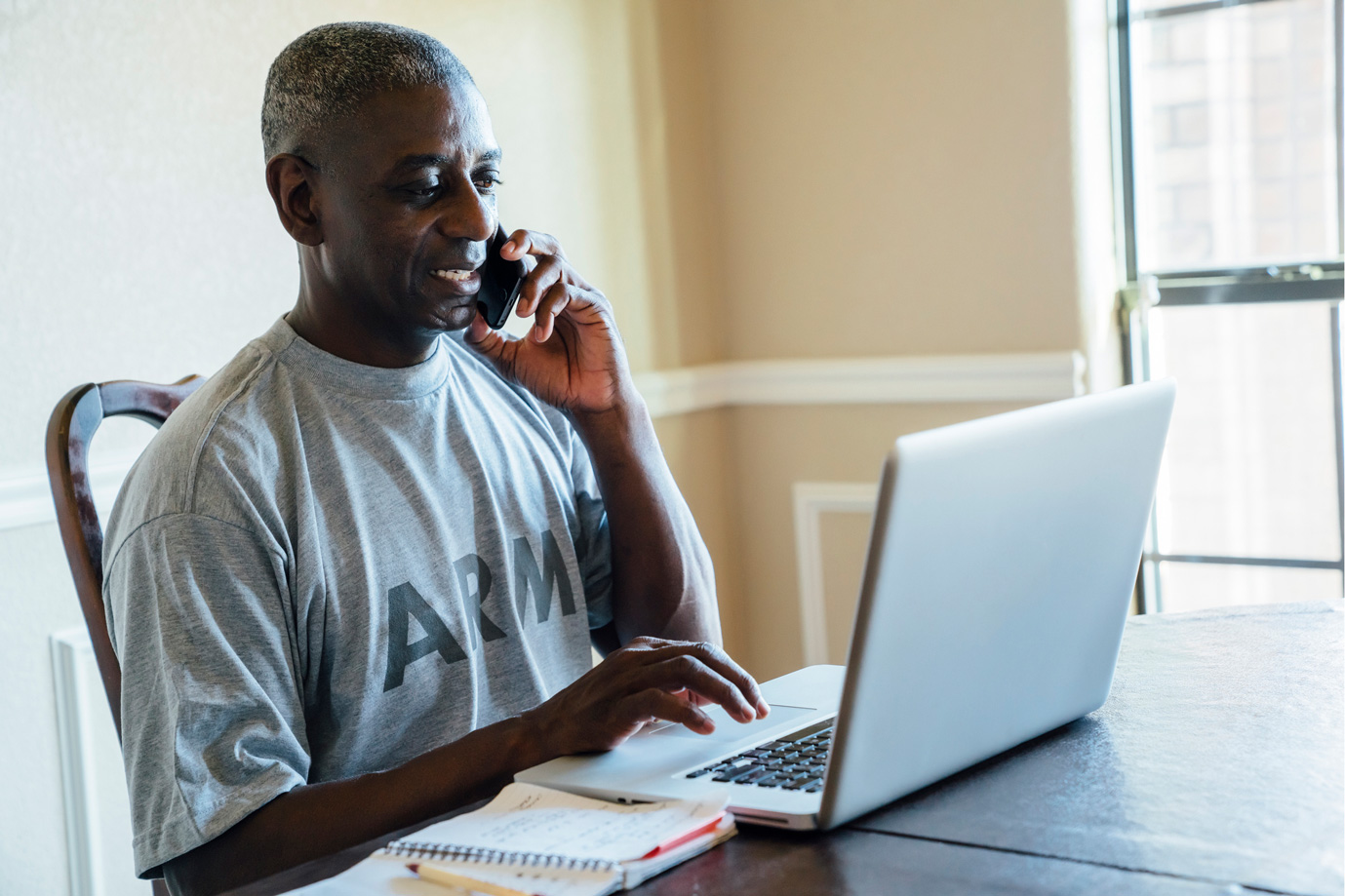 Help and Resources for Veterans With Mesothelioma
Being diagnosed with a rare and aggressive form of cancer can radically change a family's life. Veterans suffering from mesothelioma may need resources to find support online, locate treatment centers and pharmacies, and help pay for medication. In addition to housing and financial assistance, legal help is available to vets and their families.
Keep reading for more information about resources for veterans with mesothelioma.
Types Resources on This Page:
Online Mesothelioma Resources
Help Finding Treatment
Financial Aid for Veterans With Mesothelioma
Mesothelioma Travel and Lodging Assistance
Resources for Spouses and Dependents
Legal Help for Mesothelioma
Online Mesothelioma Resources
Many families start learning more about mesothelioma and its treatment through online searches. Online mesothelioma resources also include links to education about coping with cancer, support groups, and counseling.
Moreover, some people may be able to apply for some benefits online. Resources for veterans with mesothelioma with online applications include:
Medicaid
Medicare
Social Security Disability benefits
Some trade and union benefits
TRICARE health coverage
VA benefits
Veterans of Foreign Wars (VFW) member benefits
Help Finding Mesothelioma Treatment
Mesotheliomas are an uncommon type of cancer. Consequently, many hospitals don't have experience treating it. Patients may also want to explore other types of treatment not offered by their current care team. Searching online for other cancer therapies is an easy way for help finding treatment.
The online resources below can help veterans find a treatment that specializes in mesothelioma.
Accredited Cancer Treatment Centers
The National Cancer Institute has designated cancer treatment hospitals and facilities across the country.
The Commission on Cancer maintains a searchable database of accredited cancer hospitals and medical services.
Clinical Trials
Mesothelioma clinical trials allow patients with any stage of cancer to undergo new treatments that have not yet received final approval by the FDA.
Provided by the U.S. federal government.
Search open clinical trials: https://clinicaltrials.gov
Home Care and Hospice
Online Support Groups
American Cancer Society 24/7 Cancer Helpline
Round-the-clock help from trained specialists who can answer questions about your diagnosis or lend a sympathetic ear.
Call ACS at 1-800-227-2345 or schedule a video chat.
Mesothelioma Straight Talk Facebook Group
Mesothelioma Caregivers – Advanced Disease Facebook Group
Financial Aid for Veterans With Mesothelioma
After a cancer diagnosis, finances can become a major concern for some families. Paying for treatment and medication can be as difficult as covering the monthly cost of a mortgage. Fortunately, the healthcare community as well as federal and state governments maintain special funds for families in need.
The Cancer Financial Assistance Coalition is a group of organizations that help cancer patients manage their finances and apply for financial assistance.
For veterans, the Department of Veterans Affairs (VA) offers several financial resources. Depending on your eligibility and type of discharge, you may qualify for VA disability benefits. These benefits provide vets with a monthly check and allow them to qualify for VA healthcare coverage too.
Social Security Disability Income (SSDI) may also provide financial aid to veterans with mesothelioma. Like VA disability payments, monthly cash payments help those who can no longer work pay bills and buy necessities.
Mesothelioma Travel and Lodging Assistance
Healthcare Hospitality Network
Mercy Medical Angels
Social Services
State and county social services may offer housing assistance programs or low-cost government housing options for families affected by cancer who need financial help.
Find available housing assistance programs by visiting your state or county's social services website.
Food Assistance for Veterans
Meals on Wheels
A nonprofit delivers nutritious meals to homebound seniors and those with disabilities. Some fees may apply.
Find Meals on Wheels deliveries near you: https://www.mealsonwheelsamerica.org
SNAP Food Assistance
State and local governments supplement families' food budgets with cash benefits that can be exchanged for food and meals.
Find your state's SNAP program on the USDA's map directory: https://www.fns.usda.gov/snap/state-directory
WhyHunger
Resources for Spouses and Dependents
Cancer in the Family Relief Fund
Provides grants to children with a parent with cancer. Grants allow children to participate in extracurricular activities.
Resources for kids: https://cancerfamilyrelieffund.org
Emergency Broadband Benefit Program
A discount of up to $50 per month on internet services for families in need. One-time discounts for laptops and other personal computers are also available.
See if you're eligible: https://getemergencybroadband.org/
Temporary Assistance for Needy Families (TANF)
State-run Department of Human Services programs that help eligible families with children pay for necessities like food, clothing, housing, utilities, and other bills.
Visit your state's TANF website for information on how to apply.
Legal Help for Mesothelioma
Legal resources for veterans with mesothelioma can help families seek compensation for exposure to cancer-causing agents like asbestos. The vet and/or their family members may be able to file a legal claim for compensation such as:
An experienced mesothelioma attorney can help you prepare a case.