Navy Minesweepers and Asbestos
Navy minesweepers are part of a class of ship designed to patrol waterways for undersea explosive devices and destroy them. From the start of the 20th century until the 1980s, many ships contained dangerous levels of asbestos. Exposure to asbestos aboard U.S. naval vessels has contributed to high rates of asbestos-caused cancers among Navy veterans.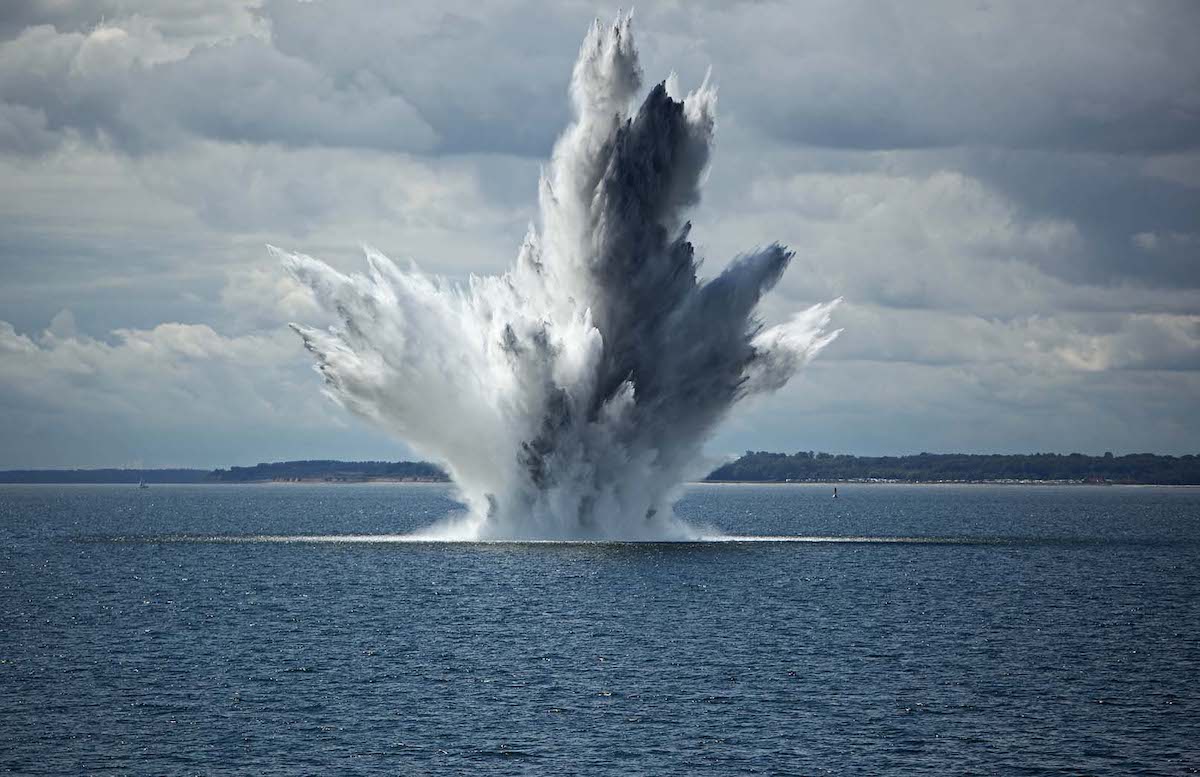 Asbestos-related Diseases and Navy Minesweepers
For most of the 20th century, the U.S. military used tons of cancer-causing asbestos in buildings, transportation, and hundreds of other applications. Use of the material was so widespread that nearly every service member was exposed between the 1920s and 1980s. Navy Minesweepers, like other naval vessels, were built with tons of carcinogenic material for decades as insulation. This also gave the materials a lightweight rigidity.
Veterans make up 30% of mesothelioma diagnoses. Navy veterans make up a third of these diagnoses.
Asbestos is an inexpensive, lightweight, and heat-resistant material. Manufacturers added the mineral fiber to thousands of products, including hundreds of high-friction parts used on Navy minesweepers. The ships trawled and cleared marine routes for military and merchant ships in peace and wartime.
In 1979, the Navy submitted a plan to the U.S. Government Accountability Office for "selectively replacing asbestos insulation in high-maintenance areas where repairs would be expected during a ship's next operating cycle."
Typically, asbestos-containing materials (ACM) were used to make components such as insulation, flooring, and pipes. Sailors who served aboard Lapwing-class, the first class of minesweeper commissioned by the Navy, risked asbestos exposure from damaged or aging ACM. Inhaling the microscopic fibers of friable asbestos can lead to lung damage, cancers, and a range of health complications.
If you have a history of contact with asbestos during your military service and you didn't receive a dishonorable discharge, you're eligible for benefits from the U.S. Department of Affairs (VA). VA benefits include health care and compensations (typically monthly payments).
History of Navy Minesweepers
Mines and mine countermeasures, commonly called minesweepers today, are hundreds of years old. The Royal Navy pioneered early minesweeper technology and wartime use until World War II.
During World War I, the US Navy's first minesweepers cleared 2,160 mines from Allied British seas.
In 1917, the Navy commissioned 54 Lapwing-class ships to be used as minesweepers, minelayers, and fleet tugs. Lapwing ships were referred to as Bird-class ships due to the different species of birds used in naming ships. WWII-era Lapwing ships included the USS Gannet (AM-41), USS Redwing (AM-48), and USS Partridge (ATO-138).
Minesweeper Details:
Manufacturers: Peterson Shipbuilders (Sturgeon Bay, WI), Marinette Marine (Marinette, WI)
Engine: 4 diesel engines
Length: 187 feet long
Speed: 14 knots
Crew: 8 officers, 76 enlisted service members
Artillery: mine countermeasure system, two 3″/50 caliber and .30 caliber machine guns.
After the war, some minesweepers were decommissioned while others were recommissioned as small-seaplane tenders, submarine rescue vessels, and fleet tug vessels.
Today, the Navy employs Avenger-class minesweepers "capable of finding, classifying and destroying moored and bottom mines." Active U.S. Navy minesweepers include 14 Avenger Mine Countermeasure (MCM) ships in service to the fleet.
Ships listed by the U.S. as mine countermeasure ships include:
USS Sentry (MCM 3)
USS Champion (MCM 4)
USS Devastator (MCM 6)
USS Patriot (MCM 7)
USS Scout (MCM 8) (decommissioned 2020)
USS Pioneer (MCM 9)
USS Warrior (MCM 10)
USS Gladiator (MCM 11)
USS Ardent (MCM 12) (decommissioned 2020)
USS Dextrous (MCM 13)
USS Chief (MCM 14)
Asbestos Use Aboard Navy Ships and Minesweepers
Until the 1980s, asbestos exposure was more common in the military than in many civilian careers. The material was a popular manufacturing component used to strengthen and fireproof products. Usually, asbestos-containing materials don't pose a risk to human health. However, when damaged and exposed to air, the materials release tiny asbestos particles.
Asbestos fibers are so small that they can stay afloat for several days at a time. Below deck on ships like minesweepers, particles may remain trapped for long stretches of time and affect many crew members. Consequently, the Navy has the highest rate of asbestos-caused diseases among its veterans. Similarly, the U.S. Coast Guard has higher rates of mesothelioma and similarly caused cancers.
According to the War Related Illness and Injury Study Center, any sailor who worked below deck before the early 1990s risked asbestos exposure and related cancers.
Throughout the 1950s and 1960s, the Navy recognized the serious threat hazardous asbestos exposure posed to its members. The military branch implemented guidelines for the use of PPE and ventilation or respirators. Specifically, Navy safety programs enforced the safe handling of asbestos insulation aboard ships.
According to the VA, you should get a test at a medical center if you've made or worked with the following products during your military career:
Cement sheets
Clutch facings and brake linings
Flooring
Insulation
Pipes
Roofing
Mesothelioma Among Navy Minesweeper Veterans
Mesothelioma is one of the long-term diseases caused by asbestos exposure. Normally, asbestos exposure takes 20 to 50 years to develop noticeable symptoms. Most mesothelioma patients experience chest pain and shortness of breath as early complications.
Not everyone that's exposed to asbestos develops a health problem. However, high concentrations of asbestos exposure or exposure over long periods of time greatly increase your risk of developing asbestos-caused illnesses. Navy minesweeper veterans who worked on ships for long deployments are at risk for asbestos-caused diseases like:
Colon cancer
Lung cancer
Pleural mesothelioma
Peritoneal mesothelioma
Throat cancer
Navy veterans most at risk of asbestos exposure include service members who:
Primarily worked in or around engine rooms, boiler rooms, or pipes
Renovated or demolished military structures before the mid-1990s
Served aboard a ship with a keel laid before 1983
Worked below deck before the 1990s
Worked in ship renovation before 1970
Worked in shipyards between the 1930s and 1990s
For those who aren't showing any symptoms of asbestos cancer, the VA recommends getting tested if you've worked in:
Carpentry
Construction
Demolition (knocking down old buildings)
Milling
Mining
Shipyards
Compensation for Veterans on Minesweepers
The VA provides health care and compensation for veterans who can prove their military service resulted in an illness or injury. Navy veterans who worked aboard minesweepers can work with a certified benefits professional to gather the required documents for VA approval. Moreover, an asbestos lawyer can help you decide if you're eligible for other types of compensation.